New Product Announcement - PE-05
Rock Island, IL – Monoxivent Source Capture Systems, the market leader in Vehicle Exhaust Extraction, has announced its latest innovation, The PE-05 Exhauster. The PE-05 Exhauster by Monoxivent is the perfect solution for capturing and eliminating vehicle exhaust from Automobiles and light duty Pick-up Trucks in a Tune-up or Idling type application. This portable, light weight solution is easy to use and easy on your pocket book.
The PE-05 Blower is constructed of cast Silumin (Silicon Aluminum Alloy), (both housing and wheel). The wheel is radial blade type.
Standard Motors are Baldor with TEFC Enclosure. Standard Motors are UL UR recognized as a component and CSA certified in Canada.
Motor is 3450 RPM.
Unit is supplied with: Foot Mount Base, 1-Phase/115 Volt/.5 HP Motor, On/Off switch, 25' Power Chord and carrying handle.
Unit comes with 10' x 4" Diameter, series 5000 Hose on Suction side
10' x 4" Diameter series 5000 Hose on Discharge side.
Includes our 23827-SL Neoprene Oval Mouth Tailpipe adaptor.
Optional accessories include: Casters and a longer handle for even easier mobility, 10' x 4" Series 5000 Extension Hose on Discharge side.
With a 1/2 HP fan the PE-05 provides enough airflow to handle cars, light duty pick-up trucks and any other vehicles incorporating a small engine while idling. It is a complete solution that includes both suction and discharge hoses along with a neoprene rubber tailpipe adapter. The 25' power cord provides enough length to reach the required 115V/1PH outlet. An integral handle allows transport of the PE-05 to multiple locations. With the discharge hose routed out a garage door, man door or optional door/wall port, vehicles can safely operate indoors. Typical applications include small service garages, residential shops, mobile service vans, motorcycle shops, lawn and garden shops, etc.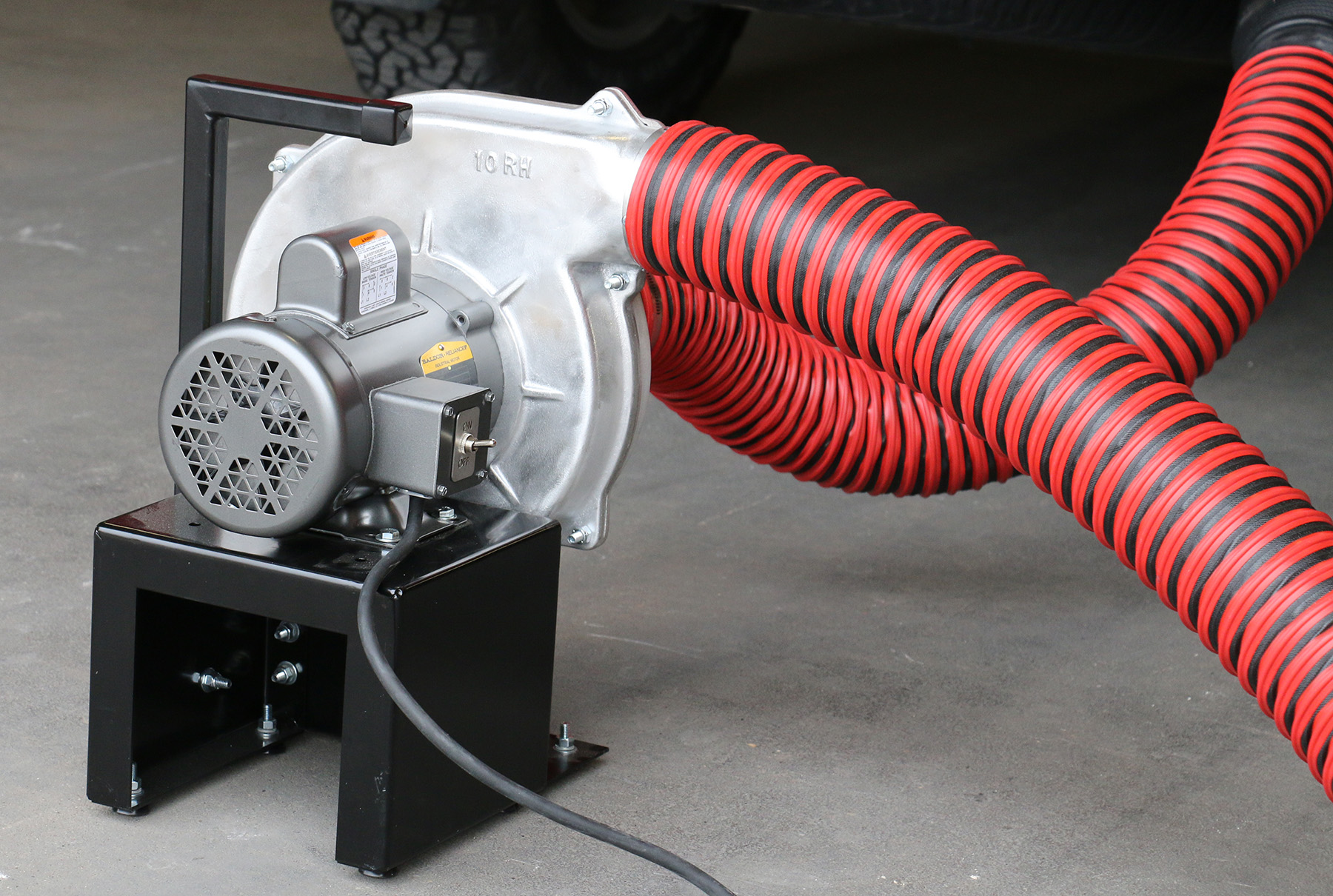 For more info: Model PE-05 Product Overview