Choosing An Exhaust Extraction System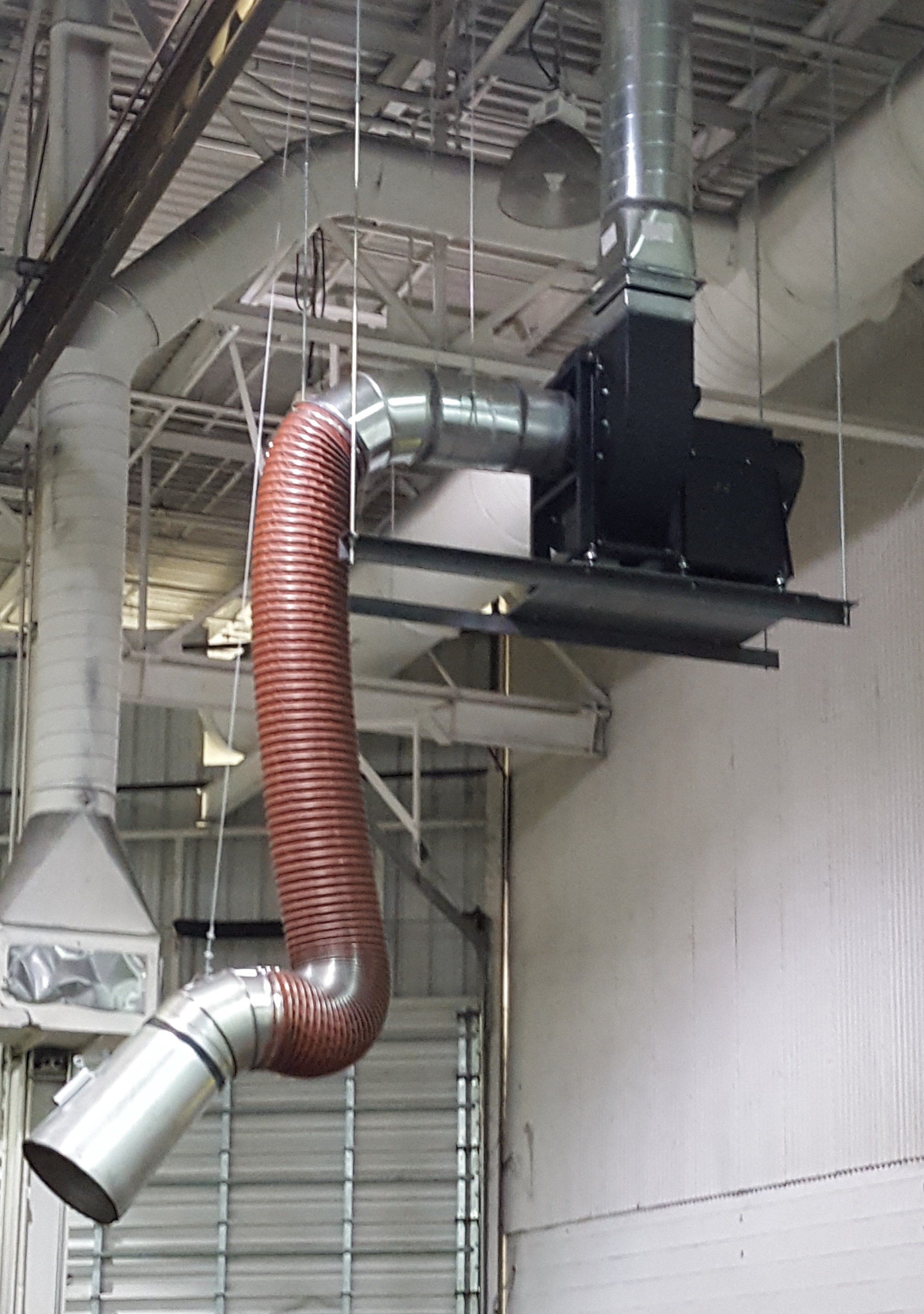 Are you unsure about what type of source capture system you need for your workers? Do you run an auto-shop or welding application? Consult Monoxivent's literature page to find out exactly what type of fumes and particulates you are dealing with.
Choosing Fume Or Exhaust Removal
Our expert team can help you find the perfect fume extraction solution for your business. Learn about systems that are geared more towards exhaust removal versus grinding and welding particulates.
Monoxivent has "in-house" access to laser-cutting centers, a CNC punch, a plasma cutting system, and a team of specialty-weld designers. Monoxivent is proud to offer products "Made in the USA" by its' team of experienced fabricators.
Here are some basic fume extraction design criteria:
General System Sizing Guidelines for Normal Tune-up and Idling Applications
Cars and Light Trucks 300 CFM 4" Diameter Hose
Medium Trucks and Lite Buses 450 CFM 5" Diameter Hose
Dump Trucks, Large Buses, Industrial Equipment, Agricultural Equipment 600 CFM 6" Diameter Hose
2000-2500 FPM Main Duct Conveying Velocity
Approx. Total System Static Pressure Hose Drops and Duct = 4"- 4.5"
Recommended Exhaust Hose Types
5000 series Hose Cars, Light Trucks in Tune-up and Idling Applications.
4000 series Hose All Diesel-Powered Vehicles.
General System Sizing Guidelines for Welding and Fume Applications.
6" Diameter Arms: 600-700 CFM/Each
8" Diameter Arms: 1000-1200 CFM/Each
2000-2500 FPM Main Duct Conveying Velocity
Approx. Total System Static Pressure Drops and Duct = 4"- 4.5"
**Disclaimer: Performance criteria assumes proper duct design and installation. Above design criteria is for simple exhaust system design.
The manufacturing capabilities of Monoxivent include a complete line of vehicle exhaust extraction systems, spring hose reels, motorized hose reels, overhead systems and underground exhaust systems, rail systems, welding extraction arms, portable filter units, wall mount filter systems, cyclone dust collectors, free hanging filter units, FRP (fiberglass rein-forced plastic) Solutions, and complete custom design build services for special requirements from our customers.
Monoxivent prides itself in developing and offering products that meet the demand for "user friendly systems." The design has been based upon direct communication with end users, listening to their needs and improving upon various ideas and concepts. This method of design caters to the users of our systems, thus making the purchase of Monoxivent products a wise investment.
Core Values
TEAMWORK: We work together as one team aimed at reaching common goals.
INNOVATION: We are flexible and resourceful in discovering innovative solutions.
QUALITY: We strive to deliver the highest quality products and service.
CUSTOMER SERVICE: We act with the utmost professionalism in serving our customers.
INTEGRITY: We show what we believe by practicing these values.
Statement generated by company-wide employee planning process, along with parent organization (Crawford Co.), 2/22/11